The Matrix Resurrections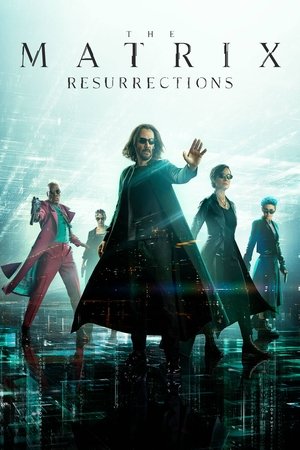 The Matrix Resurrections
Overview
Plagued by strange memories, Neo's life takes an unexpected turn when he finds himself back inside the Matrix.
Cast

Keanu Reeves

Carrie-Anne Moss

Yahya Abdul-Mateen II

Jessica Henwick

Jonathan Groff

Neil Patrick Harris

Priyanka Chopra Jonas

Christina Ricci

Jada Pinkett Smith

Telma Hopkins
Chad Stahelski
Lambert Wilson
Brian J. Smith
Toby Onwumere
Max Riemelt
Eréndira Ibarra

Andrew Lewis Caldwell

Joshua Grothe
Michael X. Sommers
L. Trey Wilson
Mumbi Maina

Max Mauff
Purab Kohli

Freema Agyeman
Sabrina Strehl

Andrew Rothney

Cooper Rivers
Esther Silex

Leo Sheng
John Gaeta
Donald Mustard
Kim Libreri

Joe Mazza
Julian Grey
Gaige Chaturantabut

Tiger Hu Chen

Volkhart Buff
Amadei Weiland

Stephen Dunlevy
Ellen Hollman

Ian Pirie

Nicolas de Pruyssenaere
Felix Quinton
Aaron Pina

Dani Swan

London Breed

Steven Roy
Mercy Malick
Juval Dieziger

James McTeigue

Sarah McTeigue
William W. Barbour
Kenny Beers

Thomas Dalby
James D. Weston II
Crew
Tom Tykwer

Bruce Berman

John Toll
Grant Hill
Lilly Wachowski

Lana Wachowski

Lana Wachowski

Lana Wachowski

Lana Wachowski

Dane A. Davis

Dane A. Davis

James McTeigue

Henning Molfenter

Carmen Cuba
Jonathan Eusebio
Mike Möller
Eric Brown
Doug Coleman
Zack Duhame
Pierre Buffin

Christoph Fisser
David Mitchell
Tim Rigby

Debbie Evans
Bryan O. Watkins

Scott Rogers

Flora Moody

Flora Moody
Moriah Etherington-Sparks

Robin Lynn Bonaccorsi
Brett Praed

Can Aydin

Chris Reid

Cale Schultz
Jeff Mosley
Gabriel Rios
The Matrix Resurrections, the fourth installment in the popular Matrix franchise, is set to hit theaters and HBO Max on December 22, 2021. After almost two decades since the third Matrix movie was released, fans of the sci-fi action thriller are eagerly awaiting the return of Neo and Trinity.

The Matrix Resurrections is directed by Lana Wachowski, who co-directed the original trilogy with her sister, Lilly Wachowski. This time, however, Lilly is not involved in the project. The movie stars Keanu Reeves as Neo, Carrie-Anne Moss as Trinity, and Yahya Abdul-Mateen II, who is rumored to be playing a young Morpheus.

The plot details of the movie are scarce, but the trailer released in September 2021 gave fans a glimpse of what to expect. Neo is shown living an ordinary life, seemingly unaware of his past as the chosen one who fought against the machines. However, he starts to have strange visions that lead him to seek out Trinity, who also appears to be living a normal life.

The trailer also hints at the return of other familiar faces, including Agent Smith, played by Hugo Weaving in the original trilogy. However, Weaving has confirmed that he did not reprise his role in the fourth movie, and instead, the character is played by actor Jonathan Groff.

The Matrix Resurrections is expected to explore themes of identity, reality, and free will, which were central to the original trilogy. The first movie, released in 1999, was a groundbreaking work of science fiction that explored the concept of a simulated reality, where humans are enslaved by machines.

The Matrix Resurrections is coming at a time when the world is grappling with issues of technology and artificial intelligence. The movie is likely to resonate with audiences who are questioning the impact of technology on our lives and the dangers of a world where machines have too much power.

In addition to the returning cast, The Matrix Resurrections also features new actors, including Neil Patrick Harris, Christina Ricci, and Priyanka Chopra Jonas. The movie has been in development since 2017, and fans are eagerly awaiting its release.

The Matrix Resurrections promises to be a thrilling and thought-provoking addition to the Matrix franchise. With a stellar cast and a talented director at the helm, the movie is sure to be a hit with fans of the series and newcomers alike.