The Duke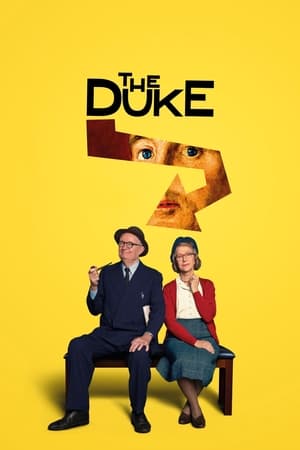 The Duke
Overview
In 1961, a 60 year old taxi driver stole Goya's portrait of the Duke of Wellington from the National Gallery in London. It was the first (and remains the only) theft in the Gallery's history. What happened next became the stuff of legend.
Cast
Jim Broadbent

Helen Mirren
Fionn Whitehead
Matthew Goode
Aimee Kelly
Charlotte Spencer

Jack Bandeira

Anna Maxwell Martin

Sian Clifford
John Heffernan
Joshua McGuire
James Wilby

Craig Conway

Richard McCabe
Sam Swainsbury
Andrew Havill

Dorian Lough

Sarah Beck Mather

Heather Craney
Stephen Rashbrook
Michael Hodgson
Cliff Burnett
Val McLane
Crew

George Fenton

Roger Michell

Mike Eley
The Duke movie
The film is based on the true story of Kempton Bunton, a 60-year-old taxi driver from London who stole a painting by Francisco Goya, The Duke of Wellington, from the National Gallery in London in 1961.

The film stars Academy Award-winning actor Jim Broadbent as Kempton Bunton, and is directed by Roger Michell, known for his work on Notting Hill and Changing Lanes. The Duke also stars Helen Mirren as Bunton's wife, Anne, and Fionn Whitehead as their son, Jack.

The Duke explores the story behind the theft of the painting, as well as Bunton's motivation for stealing it. The painting, which depicts the Duke of Wellington on horseback, was a symbol of British victory over Napoleon in the Battle of Waterloo. Bunton, a working-class man who felt marginalized by society, stole the painting as a way to make a statement about the class divide in Britain.

The film has already received critical acclaim, with The Guardian calling it "a triumph of wit and warmth." The Duke has also been selected to screen at the Cannes Film Festival in July 2021, further cementing its status as one of the most anticipated films of the year.

In addition to the captivating story and talented cast, The Duke also boasts stunning cinematography and a beautiful score composed by Richard Hartley. The film is a poignant and timely exploration of social inequality, and is sure to captivate audiences when it hits theaters this summer.

Overall, The Duke promises to be a must-see film for both fans of true crime stories and those who appreciate powerful storytelling and exceptional filmmaking. With a talented cast, compelling story, and beautiful visuals, The Duke is sure to be one of the standout films of 2021.