Spectre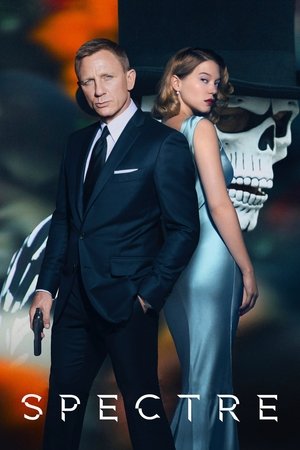 Spectre
Overview
A cryptic message from Bond's past sends him on a trail to uncover a sinister organization. While M battles political forces to keep the secret service alive, Bond peels back the layers of deceit to reveal the terrible truth behind SPECTRE.
Cast
Daniel Craig

Christoph Waltz
Léa Seydoux
Ralph Fiennes

Naomie Harris
Ben Whishaw
Monica Bellucci

Dave Bautista
Andrew Scott
Rory Kinnear

Jesper Christensen

Alessandro Cremona
Stephanie Sigman

Tenoch Huerta

Adriana Paz
Marco Zingaro
Ian Bonar
Pip Carter
Simon Lenagan

Alessandro Bressanello
Marc Zinga
Brigitte Millar

Adel Bencherif

Peppe Lanzetta

Matteo Taranto

Emilio Aniba

Dai Tabuchi

George Lasha

Sargon Yelda
Antonio Salines

Nigel Barber

Patrice Naiambana
Stephane Cornicard
Gary Fannin
Sadao Ueda

Wai Wong
Joseph Balderrama
Eiji Mihara
Junichi Kajioka

Tristan Matthiae

Detlef Bothe

Bodo Friesecke

Noah Saavedra
Francis Attakpah
Michael Glantschnig
Marlon Boess
Lara Parmiani

Amra Mallassi

Ziad Abaza

Derek Horsham
Nari Blair-Mangat

Pezhmaan Alinia
Judi Dench
Kim Adis
Steve Barnett

Romeo Visca

Daniel Westwood
Domenico Fortunato
Crew
Thomas Newman
Sam Mendes

John Logan

Dennis Gassner

Ian Fleming
Lee Smith
Daniel Craig
Jany Temime
Debbie McWilliams
Barbara Broccoli
Peter Clarke
Gerardo Albarrán

Robert Wade
Neal Purvis

Callum McDougall

Stéphane Foenkinos
Marvin Campbell

Michael G. Wilson

Zakaria Alaoui
Hoyte van Hoytema

Luis David Sansans
Gordon Alexander

Omar Ayala
Stacy Perskie

Donald Mowat

Jayne-Ann Tenggren

Jayne-Ann Tenggren
Gary Powell

Łukasz Bielan

Sam Smith
Dean Bailey
John Nollet

Gary Arthurs

Danilo Capuzi
Corran Brownlee

Paolo Antonini

Mohamed Attougui
James Bond receives an obscure message from M about a sinister organization. With the help of Madeleine, he uncovers the conspiracy, only to face an ugly truth.
The message was about a sinister organization that was up to no good. With the help of Madeleine, Bond was able to uncover the conspiracy. However, the ugly truth was that the organization was actually run by M.