Scream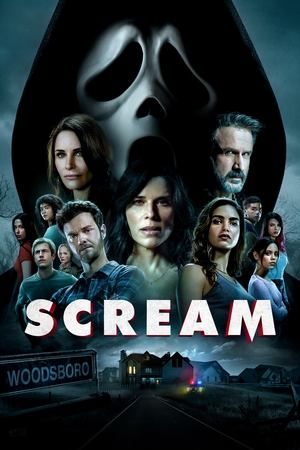 Scream
Overview
Twenty-five years after a streak of brutal murders shocked the quiet town of Woodsboro, a new killer has donned the Ghostface mask and begins targeting a group of teenagers to resurrect secrets from the town's deadly past.
Cast

Melissa Barrera

Mason Gooding
Jenna Ortega
Jack Quaid
Mikey Madison
Courteney Cox
David Arquette
Neve Campbell

Dylan Minnette

Skeet Ulrich
Jasmin Savoy Brown
Sonia Ammar
Roger Jackson

Kyle Gallner
Marley Shelton

Reggie Conquest
Heather Matarazzo

Chester Tam
Brooke Barnhill

Milli M.

Christopher Speed
Chelsea Rebecca

James A. Janisse
Drew Barrymore
Adam Brody
Henry Winkler

Hayden Panettiere

Jamie Kennedy
Matthew Lillard

Matt Bettinelli-Olpin

Tyler Gillett

Kevin Williamson

Marco Beltrami

Patrick Lussier

Julie Plec
Rian Johnson
Crew
Cathy Konrad
Gary Barber

Wes Craven
Brian Tyler

James Vanderbilt

James Vanderbilt

Kevin Williamson

Kevin Williamson
Marianne Maddalena

Matt Bettinelli-Olpin
Rian Johnson
Rich Delia

Brett Jutkiewicz

Tyler Gillett

Chad Villella

Marissa Labog

Jennifer Badger

Jean-Paul Rovela

John Gilbert

Delmar Reyna

Danya Bateman
Brooke Barnhill
Sarah Trevino
Scream
Scream is a horror movie franchise that has been terrifying audiences for over two decades. Created by Wes Craven and Kevin Williamson, the series has spawned four films, a television series, and numerous parodies and imitations.

The first Scream movie was released in 1996 and immediately became a sensation. It was a self-aware horror movie that poked fun at the genre while also delivering some genuinely scary moments. The film followed a group of teenagers who are targeted by a masked killer known as Ghostface, who taunts his victims with phone calls before attacking them.

The movie was a critical and commercial success, and it spawned a slew of imitators that tried to replicate its formula. However, none of them could capture the same mix of humor and horror that made Scream so popular.

The sequels to Scream continued to follow the adventures of Ghostface as he targeted new victims. The movies introduced new characters and plot twists, but they always stayed true to the original's mix of humor and horror.

Scream's impact on the horror genre cannot be overstated. It revitalized the slasher movie, which had been in decline since the 1980s. The film's self-awareness also influenced other horror movies, such as The Cabin in the Woods and Tucker and Dale vs. Evil.

The Scream franchise has also influenced popular culture in other ways. The iconic Ghostface mask has become a Halloween staple, and the movie's catchphrase, "What's your favorite scary movie?" has entered the lexicon of horror fans everywhere.

In 2015, Scream was adapted into a television series that aired on MTV. The show followed a group of teenagers who are targeted by a new Ghostface killer. While the series was not as well-received as the movies, it still had a dedicated fanbase.

Overall, Scream remains one of the most influential horror franchises of all time. Its mix of humor and horror, self-awareness, and iconic characters have made it a classic that will continue to terrify audiences for generations to come.