Pitch Perfect 2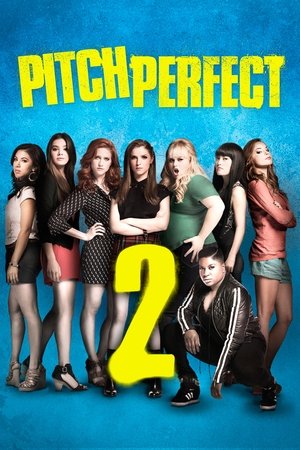 Pitch Perfect 2
Overview
The Bellas are back, and they are better than ever. After being humiliated in front of none other than the President of the United States of America, the Bellas are taken out of the Aca-Circuit. In order to clear their name, and regain their status, the Bellas take on a seemingly impossible task: winning an international competition no American team has ever won. In order to accomplish this monumental task, they need to strengthen the bonds of friendship and sisterhood and blow away the competition with their amazing aca-magic! With all new friends and old rivals tagging along for the trip, the Bellas can hopefully accomplish their dreams.
Cast

Anna Kendrick

Brittany Snow
Rebel Wilson
Hailee Steinfeld
Skylar Astin

Ben Platt
Ester Dean
Hana Mae Lee
Alexis Knapp
Chrissie Fit
Adam DeVine

Birgitte Hjort Sørensen

Flula Borg
Anna Camp
Katey Sagal
Kelley Jakle

Shelley Regner
John Hodgman

Jason Jones

Joe Lo Truglio
Reggie Watts

John Michael Higgins
Elizabeth Banks

Snoop Dogg

David Cross

Keegan-Michael Key
Shawn Carter Peterson

Clay Matthews
Jordan Rodgers

Gralen Bryant Banks

Sharon Garrison
Brea Grant
Austin Lyon
Kay Cannon
Natalie Morales

Jake Tapper

Joe Scarborough
Mika Brzezinski

Jimmy Kimmel

Rosie O'Donnell
Nicolle Wallace
Rosie Perez

Adam Levine
Christina Aguilera

Pharrell Williams

Blake Shelton

Blake Burt
Ted Moock

Jerry Clark

Phi Vu
Jacinto Rodriguez
Andrew Fitzpatrick
Allie Feder
Dylan Cheek
Jeremy Williams

Samantha Smith

Alexis Lawson
Jordyn McDempsey
Mitch Grassi
Kevin Olusola
Avi Kaplan

Scott Hoying

Gigi Zumbado

Marisela Zumbado

Aakomon Jones
Shanna Marie Burris
Robin Roberts
Kether Donohue
C.J. Perry
Sope Aluko

Leticia Jimenez
Anton Narinskiy
Crew

Mark Mothersbaugh

Craig Alpert
Elizabeth Banks
Elizabeth Banks
Kami Asgar
Kay Cannon
Kay Cannon
After a disastrous performance, the all-female a cappella group The Barden Bellas enter an international competition in order to try and salvage their reputation.
They enter an international competition. This competition is their last chance to prove themselves and regain their former glory. The stakes are high, and the pressure is on. The Bellas will have to give it their all if they want to win.