Mrs. Harris Goes to Paris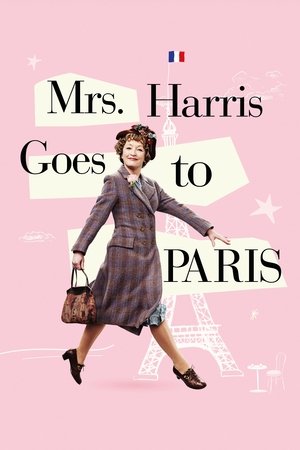 Mrs. Harris Goes to Paris
Overview
A 1950s London cleaning lady falls in love with an haute couture dress by Christian Dior and decides to gamble everything for the sake of this folly.
Cast
Lesley Manville

Isabelle Huppert
Lambert Wilson
Alba Baptista
Lucas Bravo
Ellen Thomas
Rose Williams

Jason Isaacs

Anna Chancellor
Roxane Duran
Bertrand Poncet

Christian McKay
Freddie Fox
Philippe Bertin

Guilaine Londez

Delroy Atkinson

Vincent Martin

Csémy Balázs
Ben Addis
Zsolt Páll
Declan Hannigan

Wayne Brett

Panka Murányi
Jade Lopez
Barnabás Réti
Crew

Jenny Beavan

Philippe Carcassonne
Barney Pilling
Lesley Manville

Anthony Fabian

Anthony Fabian

Anthony Fabian
Mrs. Harris Goes to Paris
Mrs. Harris Goes to Paris is a delightful novel that tells the story of a working-class woman from London who dreams of owning a Dior dress. The book, written by Paul Gallico, was first published in 1958 and has since become a classic.

The story begins with Ada Harris, a widowed cleaning lady, who discovers a discarded copy of Vogue magazine while on the job. As she flips through the pages, she becomes entranced by the beautiful clothes and the glamorous lifestyle of the women featured in the magazine. She becomes particularly obsessed with a Dior dress, and she decides that she must have one.

Despite being a woman of limited means, Ada sets out to save enough money to travel to Paris and buy the dress. She scrimps and saves, taking on extra jobs and cutting back on her expenses. Eventually, she has enough money to make the trip.

Once in Paris, Ada is overwhelmed by the city's beauty and culture. She struggles to navigate the language barrier and the unfamiliar customs, but she persists in her quest to find the dress. Along the way, she meets a cast of characters who help her on her journey, including a handsome dressmaker and a kind-hearted Englishwoman.

As Ada searches for the dress, she also discovers a newfound sense of confidence and self-worth. She realizes that she is capable of achieving her dreams and that she deserves to indulge in a little luxury. When she finally finds the dress, it is a triumph not just for her wardrobe, but for her spirit.

Mrs. Harris Goes to Paris is a charming tale that celebrates the power of determination and the joy of indulging in a little luxury. It is a reminder that sometimes, the things we desire most are worth the effort and sacrifice required to obtain them.