Living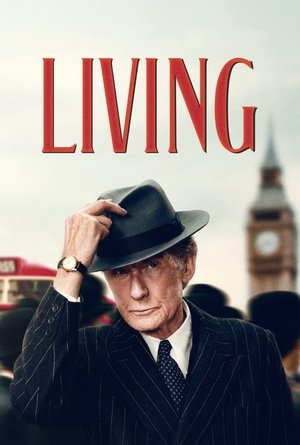 Living
Overview
London, 1953. Mr. Williams, a veteran civil servant, is an important cog within the city's bureaucracy as it struggles to rebuild in the aftermath of World War II. Buried under paperwork at the office and lonely at home, his life has long felt empty and meaningless. Then a devastating medical diagnosis forces him to take stock, and to try and grasp some fulfilment before it passes permanently beyond reach.
Cast
Bill Nighy
Aimee Lou Wood
Alex Sharp

Tom Burke
Adrian Rawlins
Oliver Chris

Zoe Boyle

Patsy Ferran

Michael Cochrane

Lia Williams

Jamie Wilkes

Richard Cunningham
Ffion Jolly

Celeste Dodwell
Jonathan Keeble
Eunice Roberts
Edward Wolstenholme

Gleanne Purcell-Brown

Matilda Ziegler

Grant Gillespie
Thomas Coombes
Crew

Akira Kurosawa

Shinobu Hashimoto
Hideo Oguni
Sandy Powell
Kazuo Ishiguro
Kazuo Ishiguro
Oliver Hermanus
Jamie Ramsay
Emilie Levienaise-Farrouch

Nadia Stacey

Nadia Stacey
In 1950s London, a humorless bureaucrat decides to take time off work to experience life after receiving a grim diagnosis.
He had always been a stickler for rules and regulations, never once deviating from the strict routine he had set for himself. But now, faced with the reality of his mortality, he realized that he had been living his life all wrong.

As he immersed himself in the city's culture, he felt a newfound sense of freedom and joy that he had never experienced before. He laughed more, smiled more, and felt more alive than ever.

It was during this time that he met a free-spirited woman who showed him how to truly live life to the fullest. They travelled together, danced together, and shared a deep connection that he had never felt before.

As his sabbatical came to an end, he knew that he could never go back to the life he had been living. He had discovered a new lease on life, and he was determined to make the most of it. He returned to work with a new perspective, determined to enjoy every moment and live life on his own terms.