Fantastic Beasts: The Secrets of Dumbledore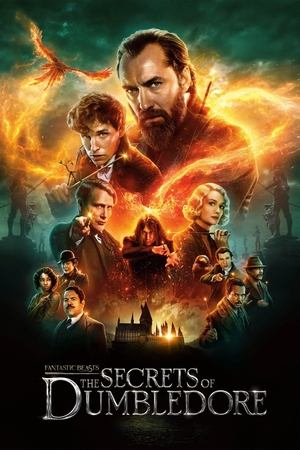 Fantastic Beasts: The Secrets of Dumbledore
Overview
Professor Albus Dumbledore knows the powerful, dark wizard Gellert Grindelwald is moving to seize control of the wizarding world. Unable to stop him alone, he entrusts magizoologist Newt Scamander to lead an intrepid team of wizards and witches. They soon encounter an array of old and new beasts as they clash with Grindelwald's growing legion of followers.
Cast

Eddie Redmayne

Jude Law

Mads Mikkelsen
Ezra Miller
Dan Fogler
Alison Sudol
Callum Turner

Jessica Williams

Katherine Waterston
Oliver Masucci

Richard Coyle

William Nadylam

Maria Fernanda Cândido

Poppy Corby-Tuech
Victoria Yeates
Aleksandr Kuznetsov
Dave Wong
Fiona Glascott
Maja Bloom
Wilf Scolding
Kazeem Tosin Amore

Manuel Klein

Valerie Pachner

Ramona Kunze-Libnow

Lucas Englander
Jan Pohl

Matthias Brenner

Peter Simonischek

Jacqueline Boatswain
David Bertrand
Stefan Race
Dónal Finn
Hebe Beardsall
Crew
Colleen Atwood
James Newton Howard
Stuart Craig
J.K. Rowling
J.K. Rowling
J.K. Rowling

Steve Kloves

Steve Kloves

David Heyman
Fiona Weir
David Yates

Lionel Wigram
Roy Taylor

Danny Cohen
George Richmond

Andy Nelson
Allan Jenkins
Fantastic Beasts: The Secrets of Dumbledore
The highly anticipated third installment of the Fantastic Beasts series, titled "The Secrets of Dumbledore," is set to hit theaters on April 15, 2022. The film, directed by David Yates and written by J.K. Rowling, promises to delve deeper into the world of wizardry and uncover new secrets about one of the most beloved characters in the Harry Potter universe, Albus Dumbledore.

The film follows the adventures of magizoologist Newt Scamander (Eddie Redmayne) as he teams up with a young Albus Dumbledore (Jude Law) to take down the dark wizard Gellert Grindelwald (Mads Mikkelsen). The plot of the film is largely unknown, but fans can expect to see more magical creatures and stunning visual effects.

One of the biggest draws of "The Secrets of Dumbledore" is the opportunity to learn more about Dumbledore's past. In the Harry Potter books and films, Dumbledore is portrayed as a wise and enigmatic figure, but little is known about his earlier years. "The Secrets of Dumbledore" promises to shed light on the character's background and explore his relationships with other key players in the wizarding world.

Another exciting aspect of the film is the introduction of new characters. Among them are a young Minerva McGonagall (played by Fiona Glascott) and a wizard named Abernathy (played by Kevin Guthrie), who appeared briefly in the previous Fantastic Beasts films. Fans are sure to be curious about how these characters fit into the larger narrative of the wizarding world.

"The Secrets of Dumbledore" also promises to be a visually stunning film. The previous Fantastic Beasts films featured breathtaking magical creatures and intricate sets, and this new installment is sure to be no different. With David Yates at the helm, fans can expect to be transported to a fully realized and immersive world of magic.

Overall, "The Secrets of Dumbledore" is shaping up to be an exciting addition to the Harry Potter franchise. With a talented cast, a promising plot, and stunning visuals, fans are sure to be spellbound when the film hits theaters in April 2022.