Everybody's Talking About Jamie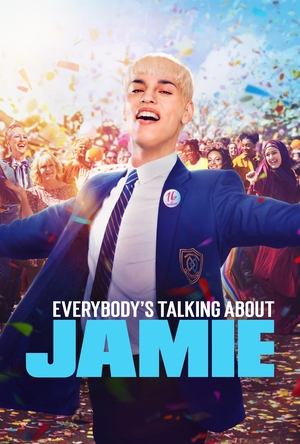 Everybody's Talking About Jamie
Overview
Jamie New is 16 and doesn't quite fit in—instead of pursuing a "real" career he dreams of becoming a drag queen. Uncertain about his future, Jamie knows one thing for sure: he is going to be a sensation. Supported by his loving mom and his amazing friends, Jamie overcomes prejudice, beats the bullies and steps out of the darkness, into the spotlight.
Cast
Max Harwood

Sarah Lancashire
Lauren Patel

Sharon Horgan
Richard E. Grant
Shobna Gulati
Ralph Ineson

Adeel Akhtar
Samuel Bottomley
John McCrea

Charlotte Salt
Rita May
Mark Sheals

Kemaal Deen-Ellis
Bianca Del Rio

David Hoyle
Crew

Arnon Milchan
Anne Dudley

Paul Massey

Nadia Stacey

Nadia Stacey
Jamie New is a 16-year-old who is unique and doesn't quite fit in with the rest. Instead of pursuing a traditional career, he has big dreams of becoming a successful drag queen one day.
He loves the art of drag and everything that comes with it – the makeup, the costumes, the performances. He knows that it's not a conventional path, but it's the one that feels right for him. Jamie is passionate and determined, and he's not going to let anyone stop him from chasing his dreams.