Don't Worry Darling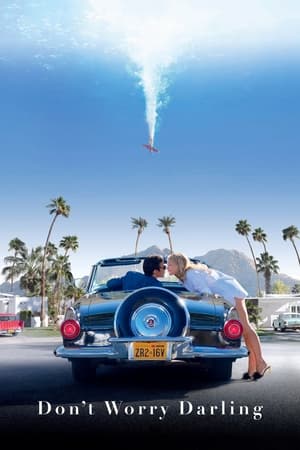 Don't Worry Darling
Overview
Alice and Jack are lucky to be living in the idealized community of Victory, the experimental company town housing the men who work for the top-secret Victory Project and their families. But when cracks in their idyllic life begin to appear, exposing flashes of something much more sinister lurking beneath the attractive façade, Alice can't help questioning exactly what they're doing in Victory, and why.
Cast

Florence Pugh

Harry Styles
Chris Pine

Olivia Wilde

Gemma Chan
KiKi Layne

Nick Kroll
Kate Berlant

Timothy Simons
Asif Ali
Sydney Chandler
Douglas Smith
Ari'el Stachel
Dita Von Teese
Marcello Julian Reyes

Steve Berg

Daniel Nishio
Monroe Cline

Nataly Santiago
Kurt Scholler
Natasha Kalimada
Charissa Kroeger
Alexandra Nicole Hulme
Toi'ya Leatherwood
Michelle Ells
Brooke deRosa
Crew
Matthew Libatique

Skip Lievsay

Skip Lievsay

John Powell

John Powell

Catherine Hardwicke

Roy Lee

Arianne Phillips

Olivia Wilde

Olivia Wilde
Affonso Gonçalves
Richard Brener

Tracy Keehn-Dashnaw
Jennifer Lame
Heba Thorisdottir
Pierre-Simon Lebrun-Chaput

Katie Silberman

Katie Silberman

Katie Silberman

Travis Quist

Ryan Ryusaki
Nicolas Cadorette Vigneau

Philippe Roberge
Brett Smrz

Keisha Tucker
Preston Mohr
Don't Worry Darling
"Don't Worry Darling" is an upcoming psychological thriller film directed by Olivia Wilde. The movie stars Florence Pugh, Harry Styles, Chris Pine, and Gemma Chan. The film is set in the 1950s and follows a housewife who begins to uncover unsettling secrets about her seemingly perfect life.

The movie marks Wilde's second feature film directorial effort, following her critically acclaimed debut with "Booksmart" in 2019. Wilde has also co-written the screenplay alongside Katie Silberman and Carey Van Dyke.

"Don't Worry Darling" has garnered attention due to its star-studded cast, particularly the casting of Harry Styles, who is making his return to the big screen after his breakout role in "Dunkirk" in 2017. Styles' casting has been a major talking point among fans, with many excited to see him take on a new challenge in a different genre.

The film also marks a step up for Florence Pugh, who has been making waves in Hollywood with her performances in "Midsommar" and "Little Women". Pugh's performance in "Don't Worry Darling" is said to be a standout, with her character being the main focus of the story.

In addition to the talented cast, "Don't Worry Darling" has also been praised for its feminist themes. The film is being described as a "female-driven thriller", with Wilde aiming to subvert traditional gender roles and expectations. The film's focus on a housewife who begins to unravel the secrets of her seemingly perfect life is said to be a commentary on societal expectations and the pressure placed on women to conform to certain ideals.

The film's trailer has already generated buzz among fans, with many praising the eerie and suspenseful tone. The trailer features a haunting cover of "You Don't Own Me" by Lesley Gore, which perfectly sets the mood for the film.

Overall, "Don't Worry Darling" is shaping up to be one of the most highly anticipated films of 2022. With a talented cast, a talented director, and important feminist themes, the film is sure to be a hit with audiences. Fans can look forward to its release on September 23, 2022.