Bullet Train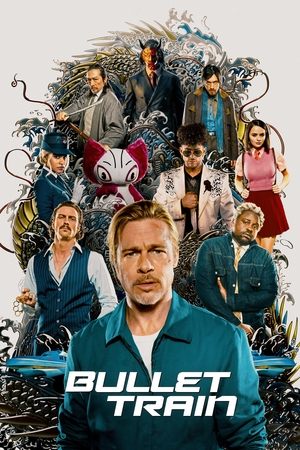 Bullet Train
Overview
Unlucky assassin Ladybug is determined to do his job peacefully after one too many gigs gone off the rails. Fate, however, may have other plans, as Ladybug's latest mission puts him on a collision course with lethal adversaries from around the globe—all with connected, yet conflicting, objectives—on the world's fastest train.
Cast
Brad Pitt

Joey King

Aaron Taylor-Johnson

Brian Tyree Henry
Andrew Koji

Hiroyuki Sanada

Michael Shannon

Bad Bunny
Sandra Bullock

Zazie Beetz
Logan Lerman

Masi Oka

Karen Fukuhara

Kaori Taketani

Jim Garrity

Emelina Adams
Jenson Cheng
Nobuaki Shimamoto
Yoshi Sudarso
Tania Verafield
Pancho Cardena
Julio Gabay

Nancy Daly

Arnold Chun
Naomi Matsuda
Benmio McCrea

Pasha D. Lychnikoff

Michelle Lee

Garland Scott

Jason Matthew Smith

David Leitch
Channing Tatum
Ryan Reynolds
RiRia
Crew

David Leitch

David Leitch
Jonathan Sela
Antoine Fuqua
Jeff Imada

Elísabet Ronaldsdóttir

Kotaro Isaka

Łukasz Bielan
Dominic Lewis
Whitney James

Greg Rementer

Greg Rementer

Season Kent

Steven John Brown

Rahma Farahat

Zak Olkewicz

Avu-chan
Five assassins aboard a swiftly-moving bullet train find out that their missions have something in common.
As they exchange suspicious glances, they realize that they have all been hired by the same mysterious organization to eliminate a single target. The tension inside the train car is palpable as each assassin tries to discern who among them is the true threat.

Suddenly, the train lurches to a stop and the lights flicker off. In the darkness, gunshots ring out and chaos ensues. As the assassins scramble to defend themselves and complete their missions, they soon realize that they are all pawns in a much larger game.

With their lives on the line, the assassins must work together to uncover the truth behind their mission and take down the organization that hired them. But with mistrust and betrayal lurking around every corner, the odds seem stacked against them.

As the bullet train hurtles towards its final destination, the assassins must rely on their wits and their weapons to survive the deadly game of cat and mouse that they have unwittingly found themselves in. Will they be able to complete their mission and emerge victorious? Or will they fall victim to the very organization that they thought they were working for?