Black Adam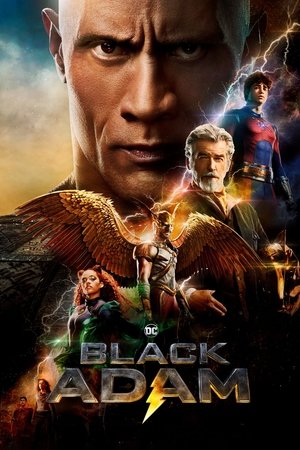 Black Adam
Overview
Nearly 5,000 years after he was bestowed with the almighty powers of the Egyptian gods—and imprisoned just as quickly—Black Adam is freed from his earthly tomb, ready to unleash his unique form of justice on the modern world.
Cast
Dwayne Johnson

Aldis Hodge

Noah Centineo

Sarah Shahi

Quintessa Swindell
Marwan Kenzari
Mo Amer

Bodhi Sabongui

Pierce Brosnan

James Cusati-Moyer

Jalon Christian

Benjamin Patterson

Odelya Halevi
Uli Latukefu

Jennifer Holland
Henry Winkler

Chaim Jeraffi

Sharon Gee

Stephan Jones
Djimon Hounsou

Kiara Rashawn
Vince Canlas
Tonea Stewart
Patrick Sabongui
Joseph Gatt
Mike Senior
Jermaine Rivers

Regina Ting Chen

Sekou Laidlow

Donny Carrington

Boone Platt
Philip Fornah

Derek Russo

Tang Nguyen

Christopher Matthew Cook
Daniel Danca
Yssa Mei Panganiban

Ben Jenkin
Viola Davis

Henry Cavill

Natalie Burn
Crew

Harry Cohen
Beat Frutiger

Lawrence Sher

Beau Flynn
Dwayne Johnson
Toby Emmerich

Matthew W. Mungle

Walter Hamada
Richard Brener

Jean-Louis Darville

Jaume Collet-Serra

Joel Harlow

Terri Douglas
Geoff Johns
Rich Delia

Lorne Balfe
Dany Garcia
Kevin Riepl

Erica Arvold
Bryan O. Watkins
Adrienne Wilson

David An
David Vyle Levy

Adruitha Lee

Adruitha Lee

Greg Rementer
Hiram Garcia
Gabe Hilfer

Shayne Hartigan
Kurt Swanson

Bart Mueller
Shane Christopher Wicklund
Fabricio de Vasconcellos Baessa Antonio
Heiðrún Tinna Haraldsdóttir
Black Adam
Black Adam is a fictional character who is known for his incredible strength and extraordinary abilities. He is a supervillain in the DC Comics universe who has gained a lot of popularity over the years. Black Adam's origin story is fascinating, and his character has undergone various changes in the comics, but he remains a formidable opponent for any superhero.

Black Adam was first introduced in 1945 in DC Comics' "The Marvel Family" series. He was created by writer Otto Binder and artist C.C. Beck. Black Adam is originally Teth-Adam, an ancient Egyptian prince who was chosen by the wizard Shazam to be his champion. However, Teth-Adam was corrupted by power and became evil, leading to his banishment from Egypt. He gained his incredible powers from the same sources that empowered Shazam's champion, Captain Marvel, including the wisdom of Solomon, the strength of Hercules, the stamina of Atlas, the power of Zeus, the courage of Achilles, and the speed of Mercury.

Black Adam's powers are immense, and he has been known to take on the likes of Superman and other powerful superheroes. He has superhuman strength, agility, and endurance, as well as the ability to fly and control lightning. He is also immune to most forms of physical harm and can heal quickly from injuries.

Black Adam's character has been portrayed in various ways over the years. Originally, he was a one-dimensional villain who wanted to conquer the world. However, in more recent comics, he has been given more depth and complexity. He has been portrayed as an anti-hero who is willing to do whatever it takes to protect his people and his country, Kahndaq. He has also been shown to have a soft spot for children, and he has even taken on the role of a mentor at times.

Black Adam has appeared in various comics, video games, and animated TV shows. He is set to make his live-action debut in the upcoming DC Comics film "Black Adam," which stars Dwayne "The Rock" Johnson in the titular role. The film will explore Black Adam's origin story and his quest for revenge against those who wronged him and his people.

In conclusion, Black Adam is a fascinating and complex character who has become a fan favorite in the DC Comics universe. His incredible powers and his unique backstory make him a formidable opponent for any superhero. Fans are eagerly anticipating his live-action debut in the upcoming film, and it will be interesting to see how his character is portrayed on the big screen.