Avatar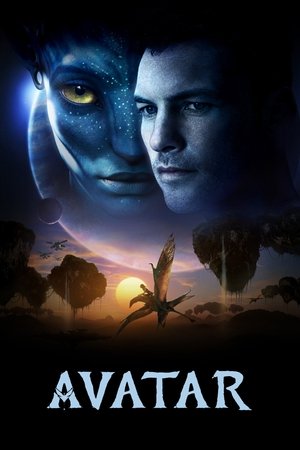 Avatar
Overview
In the 22nd century, a paraplegic Marine is dispatched to the moon Pandora on a unique mission, but becomes torn between following orders and protecting an alien civilization.
Cast

Sam Worthington

Zoe Saldaña

Sigourney Weaver

Stephen Lang
Michelle Rodriguez
Giovanni Ribisi

Joel David Moore

CCH Pounder
Wes Studi

Laz Alonso
Dileep Rao

Matt Gerald

Sean Anthony Moran

Jason Whyte

Scott Lawrence

Kelly Kilgour
James Patrick Pitt
Sean Patrick Murphy

Peter Dillon

Kevin Dorman
Kelson Henderson

David Van Horn

Jacob Tomuri

Michael Blain-Rozgay
Jon Curry

Luke Hawker
Woody Schultz

Peter Mensah
Sonia Yee

Kyla Warren
Alicia Vela-Bailey

Larry Rew
Dina Morrone

Rodney Cook
Crew

Stephen E. Rivkin
Rick Carter

Richard Taylor

Liz Mullane

James Horner
James Cameron
James Cameron
James Cameron
James Cameron

Colin Strause
Greg Strause
Josh McLaglen
Josh McLaglen

Deborah Lynn Scott

Jon Landau
Hank Amos

Laeta Kalogridis

Mauro Fiore
Jeffrey J. Dashnaw
Woody Schultz
Kevin Atkinson

Andrew R. Jones

John Bruno
John Refoua
Holly Dorff

Jason Rodriguez
Steven Quale

Simone Bargetze
Allan Poppleton

Mark Ginther

Terry Notary
Reuben Langdon
Pierre Buffin
Garrett Warren

Luke Hawker
Neville Page

Roberto De Angelis
Alicia Vela-Bailey

Ryan Brown

Andy Nelson
Ana Maria Quintana

Colin Follenweider
Simon Rhodes
Christopher Scarabosio

John Knoll
Eric Saindon
Joe Letteri
Nito Larioza

Daniel Birt

Shane Dawson
Daniel Barrett
Stella Angelova

Min Windle

Rodney Cook
Simon Franglen
Johnny Gidcomb

Vincent Roxburgh

Francis Biggs
Daniel Falconer
Yvette Reid

Justin B. Carter
Alexander Hamilton Westmore

Jamie Landau

Michael Elko Weaver
Chang Jung-min
Avatar, a science fiction movie directed by James Cameron, was released in 2009 and took the world by storm. The movie is set in the year 2154, and it portrays the story of a paraplegic marine named Jake Sully, who takes on the mission of infiltrating the Na'vi tribe on the planet Pandora. The movie's plot revolves around the conflict between the Na'vi tribe and the human race, who have come to Pandora in search of a valuable mineral called Unobtanium.

Avatar's special effects and stunning visuals were the most talked-about aspects of the movie. The movie was a game-changer for the film industry, as it introduced a new level of visual effects and motion capture technology, which earned it numerous awards and accolades. The movie's success can be attributed to the fact that it was not just another sci-fi movie but also a commentary on environmentalism, imperialism, and indigenous rights.

The Na'vi tribe, who were the indigenous inhabitants of Pandora, were portrayed as peaceful and in harmony with nature. The human race, on the other hand, was depicted as ruthless and greedy, willing to exploit the resources of Pandora at any cost, even if it meant destroying the Na'vi's way of life. The movie's message was clear: humans need to learn to coexist with nature and respect the rights of indigenous people.

Avatar's success was not just limited to the box office. The movie also had a significant impact on the gaming industry, inspiring the creation of games like James Cameron's Avatar: The Game, which allowed players to explore the world of Pandora and interact with its inhabitants. The movie's success also led to a sequel, which is set to be released in 2022.

In conclusion, Avatar was a groundbreaking movie that not only set new standards for visual effects but also had a significant impact on the film and gaming industry. The movie's message of respecting nature and indigenous rights still holds relevance today, and it is a must-watch for anyone who loves science fiction or wants to be inspired by a movie's powerful message.